Year 11
INFORMATION AND GUIDANCE (IAG) YEAR 11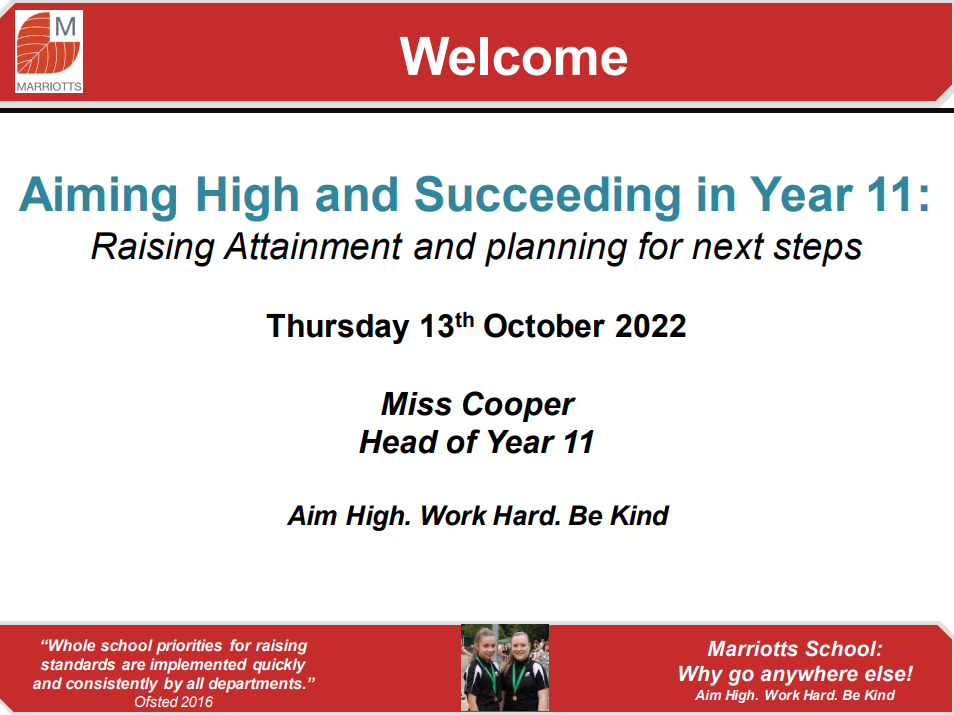 Message from your Year leader
I would just like to take the opportunity to express what an important year this is as students prepare for exams and beyond.
The year group have worked extremely hard during exceptional circumstances to continue to progress their learning showing they truly stick to our ethos of 'Aim High, Work Hard, Be Kind.'
As always, thank you for your support and I know every student in year 11 will obtain the grade they deserve.
Miss N Cooper
Year Leader
n.cooper@marriotts.herts.sch.uk
The Curriculum in year 11
We invite parents and students to watch the following video to gain a better understanding of the year 11 curriculum:
Literacy and English in year 11
Please watch the following video to find out about more about literacy and reading development in year 11:
Mental Health and Wellbeing
Please can parents and students watch together the following video, which highlights some important aspects of health and wellbeing and gives some guidance and areas to think about. It also includes some websites and contacts which can be followed to find out more:
If you have any other queries about Year 11, please do not hesitate to contact Miss Cooper on n.cooper@marriotts.herts.sch.uk.