Approach to Learning
Behaviour (Respect) and Approach to for Learning (Attitude)
We believe students need to take pride in their learning during their time at Marriotts.
We expect students to engage in the lesson activities and complete homework set by their teachers. Students are required to maintain good presentation in their books so that they are able to demonstrate their learning journey across the year.
The 'Be Kind' element of our school ethos is central to our positive community and learning environment. We expect students to be kind at all times, modeling the qualities needed to be a good citizen and represent Marriotts at all times when wearing the school uniform.
Marriotts School Rules:
Aim High, Work Hard, Be Kind
Respect, Attitude, Ownership
Follow the Community Code
To achieve safety outside of lessons, we expect all students to follow the Community Code at all times:
Walk, don't run
Talk, don't shout
Sit down or go outside
Use the bins provided
 No electronic devices
Food and drink in the Dining Hall or Café area only
Keep to the left on stairs and along corridors.
---
Approach to Learning:
ATL is a key indicator of students' progress at all key stages. We use ATL Language and criteria in lessons and for reporting each term. Teachers will grade a student on their overall ATL over the term from 5 (outstanding) to 1 (Significant concern). The criteria is concise and is used by teachers and students both visually (books and learning walls) and verbally. The criteria is also linked to our Character Education values, which in turn are directly linked to our Marriotts School motto: Aim High. Work Hard. Be Kind.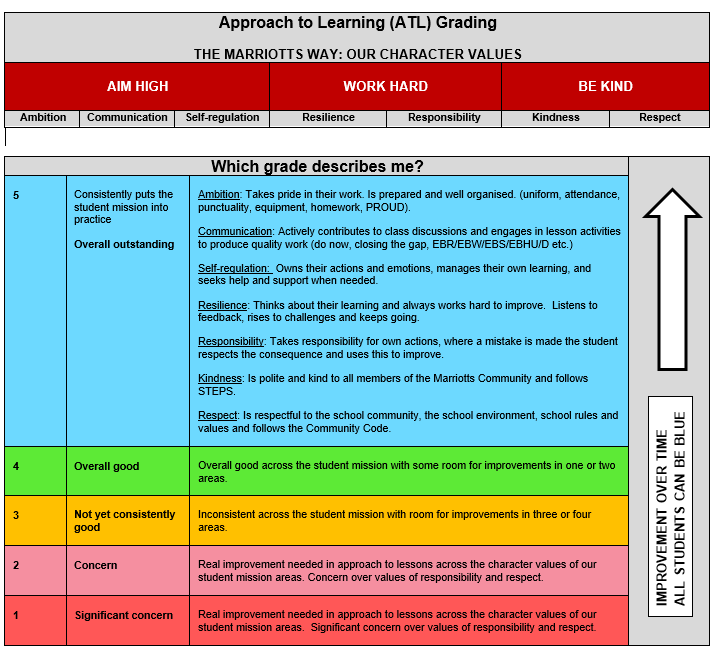 Marriotts Way Learner Zone:
We use students' subject ATL grades, attendance and how they generally follow the Marriotts Way to track their success across the year at 3 termly data points. Year team leaders (SLT Link, YL and AYL) will analyse each student's termly performance in the general conduct in the school community and their ATL across all subjects, which will determine their learner zone:
BLUE – Overall Outstanding
GREEN – Overall Good
ORANGE - Not Yet Consistently Good
PINK – A Concern
RED – A significant concern
Each zone will trigger actions within the Learner Zone Cycle. Blue and Green Zone students receive reward and recognition. In particular will feature in our termly whole school reward cycle. Orange Zone students will receive a letter home, form tutor target setting meeting and a motivational mind setting assembly. The minority of students who are placed in the Pink or Red Zone will receive personalised interventions, which could include; one on one supportive meetings, parent/Guardian meeting, reports and tracking by key pastoral members of staff.
This cycle and process allows us to track students from term to term to focus on improving all individuals. Our mantra is that, with improvement over time all students can be Blue.