Attendance and Punctuality
Links & downloads can now be found at the bottom of the page.
REPORT YOUR CHILDS ABSENCE BELOW
Does your child have EBSA - Emotional based school avoidance? Please fill out this questionnaire.
Please click here for EBSA questionaire
For our EBSA page for more support and guidence please click here
Do you have a question you would like to ask about Attendance or Absence? Click here for our FAQ page
We are about to open a facts Q&A page to help parents find answers to common questions. If you have a question or information you would like accessible please click her to ask the question. Thank you for your input.
Attendance at Marriotts School
Marriotts School, like every parent, wants the very best education for every child, for this to lead them as adults into a healthy, happy, and successful life.
We know that excellent attendance (at least 97%) is key to achieving this. Excellent attendance leads to high achievement.
Attending school every day means that students can take up every opportunity that Marriotts has to offer in their academic learning and extracurricular activities. 
We expect parents/carers & students to support us in our aim for 100% attendance for each and every student, and we work hard to recognise and reward good attendance.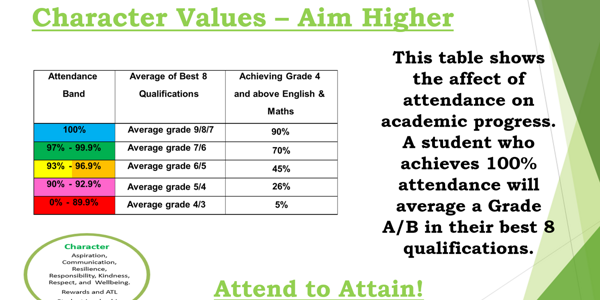 We have a great Attendance Team who aims to work in partnership between school and home so if need be, we can offer support in order that attendance can subsequently be improved where necessary.
Information on late to school:
Changes as of September 2022.
As of September 2022 unauthorised Lates will now be from 9am.
Students should be in school by 8:25am
Students arriving after 8:30am but before 9am will be given an L code late mark. Detentions will be issued without good reason or medical evidence.
Students arriving after 9am will be given a U code late mark – These are unauthorised and fines from Herts County Council can be issued if the student reaches 15 or more unauthorised sessions.
Medical appointments should be taken out of school time, if your child has a morning medical appointment please make sure that the attendance team receive a copy of the appointment so that it can be authorised otherwise a U code will be used.
Reminders regarding the occasional absence from school:
Marriotts School requires daily communication to cover absence from school and late arrival.
If your child is ill or if there is an urgent reason for non-attendance, please contact the school by 8.30am on each morning of absence
You must give the name, form and a full reason for absence.
This can be done by the following methods.
Please note that just because you have informed us your child is not in school it does not mean the absence is automatically authorised.
Authorised and unauthorised is not the same as on Gateway with explained or unexplained absence's
We encourage you to arrange routine dentist, opticians, doctors and orthodontist appointments out of school hours or during school holidays please. If this is not possible you must provide an appointment card/ letter for us to be able to authorise the time off and the student must attend before /after the appointment where possible.
Any exceptional requests for leave of absence should be in writing to the Headteacher and given to Ms Havis the Attendance Officer. It will be the decision of the Headteacher if this constitutes exceptional circumstances. However, as a matter of policy, Marriotts will not authorise leave of absence for holidays in term time. Should you wish to take your child out of school for leave of absence, you will be invited in to meet with the Headteacher and assistant Head – Attendance, to discuss this further.
Students who arrive to school after 9.00am will have an unauthorised attendance mark for the morning session, unless they have attended and can provide evidence of a medical/dental appointment. Arriving after 9.00am will affect your child's attendance and create missed learning opportunities.
Please expect to receive a text, email and a follow up call if your child is absent even if you have notified reception or the Attendance Officer of the reason. Home visits may be carried out if we do not hear from you.
If your child needs to leave school during the day, make sure the Attendance Team are aware.
Students must sign in/out at reception when they arrive late or leave school.
Attendance Team Contact Details:
Ms R Havis (Attendance Officer), Mrs N Pestell (Attendance Admin Assistant) & Mrs D Dettmer (Attendance Admin Assistant)
Email: attendance-team@marriotts.herts.sch.uk
Attendance Officer/Manager: Ms Rachel Havis
Email: r.havis@marriotts.herts.sch.uk
Book an Attendance Matters Meeting with me via this link.
Attendance Admin Assistant: Mrs Nicky Pestell
Email: n.pestell@marriotts.herts.sch.uk
Attendance Admin Assistant: Mrs Dawn Dettmer
Email: d.dettmer@marriotts.herts.sch.uk
Sixth Form Attendance: Mrs K Daly
Email: k.daly@marriotts.herts.sch.uk
How we work
The monitoring of attendance is supported by our sophisticated tracking system which enables every student to have an understanding of their attendance on a weekly basis. Our attendance diamond is a visual reminder to students of how important it is to keep their attendance and progress as close to 100%.
Every student should aim for 100% attendance and punctuality. Parents do have a legal responsibility to ensure their child attends school. A child's potential can only be reached if high levels of attendance are maintained.
The attendance and punctuality of students is monitored daily by Form Tutors, Year Leaders, and the Attendance Team. We work closely with the Local Authority who support us if we need to issue a fixed penalty notice for students who are persistently absent from school. The Local Authority is also responsible for pursuing court action if poor attendance continues.
We encourage and reward excellent attendance and punctuality with achievement points which are awarded at the end of each term to students. These achievement points contribute towards whole school rewards, such as end of year trips and non-uniform days. We also have weekly rewards for both students and forms.
If a student's attendance drops below 95% or has had 5 or more days (or 3 unauthorised days) off in the current and previous term, a sequence of letters are issued as a prompt that attendance is dropping and needs to improve.
If a student's attendance drops below 90%, they are then described as a 'Persistent Absentee'. These students are reported to the Local Authority who will consider whether or not to take legal action against the parents or carers.
If a student's attendance drops below 80%, they are then described as a 'Severely Persistent Absentee'. These students are reported to the Local Authority who will consider whether or not to do Intervention work or to take legal action against the parents or carers
A Fixed Penalty Notice may be served if 15 sessions of unauthorised absence are reached over a two-term period and no further written warning will be issued before a fine is applied for.
If a fine is applied for and imposed, £60 will be required to be paid within 21 days (escalating to £120 if paid after 21 days and within 28 days.
If the fine remains unpaid then court action may result.
If the student's attendance does not significantly improve, then court action may result.
Most students attend school regularly and punctually. Regular attendance at school will avoid any legal action being taken.
ATTEND TO ATTAIN.
REPORT YOUR CHILDS ABSENCE BELOW
ADMINISTERING MEDICATION FORM
Click here for Medical - Administering Medication Form
Information & Resources to download below.