Local information
Labour Market Information - what is it?
LMI can help you make important decisions about study, training, first jobs or next steps in your career.
On this page you will find information about living and working in Stevenage, the types of careers opportunities that are on our doorstep as well as the security of various roles and the salaries available.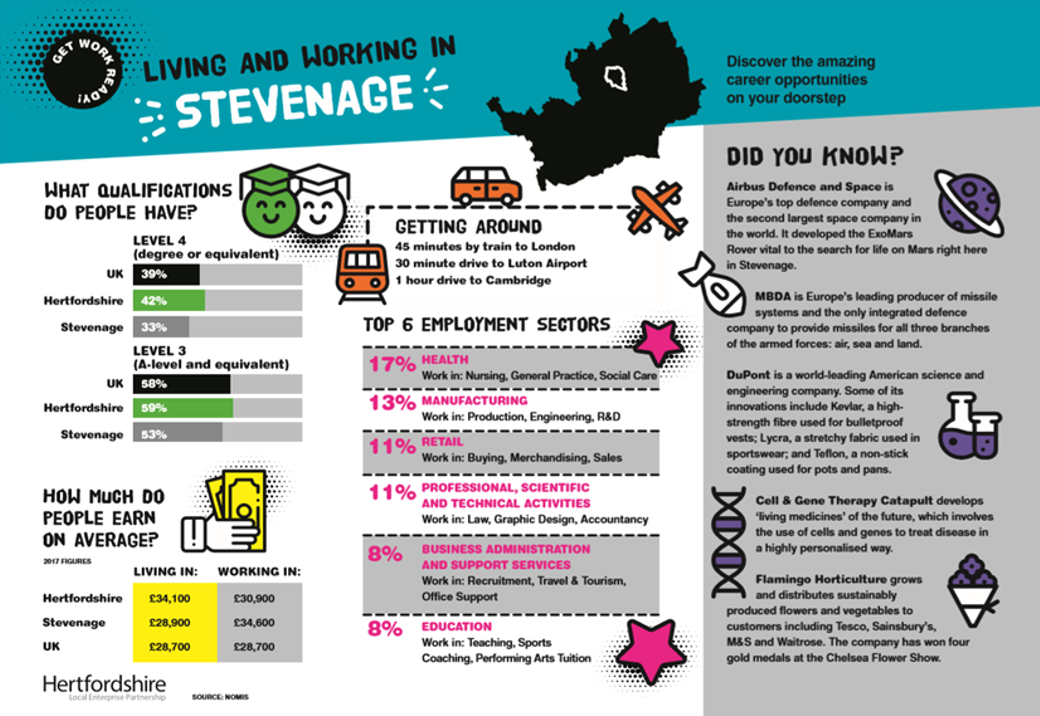 Living and working in Stevenage
Local Employer Spotlight
These are some of the local employers that are driving growth through offering high quality apprenticeship, graduate, work experience and career progression opportunities.
| | | | |
| --- | --- | --- | --- |
| Hertfordshire County Council (HCC) is a local government authority with over 8,000 employees across six departments | As a national company delivering exciting projects, we are always looking for good people to join us | An apprenticeship with John O'Conner is an ideal way to begin a career in horticulture and open space management | There is more than one way into GSK and you don't have to be a university graduate to have an outstanding career with us |
| MBDA is a world leader in missile systems, a multi-national group with over 10,000 employees in the UK, France, Germany, Italy and the US | My Mustard is a pay per click advertising company. We are hard working and are driven by our clients success | Wagada is a fast-paced digital marketing agency with training and development at its core | We power transactions that drive commerce. When you join Pitney Bowes, you will be surrounded by teams of smart, driven professionals |
| Roche is a global pioneer in pharmaceuticals and diagnostics. "Doing now what patients need next" is at the heart of everything we do! | Making your own way at Marriott International, we celebrate the dreamers who make their own mark, and with good reason. | Green Building Design is a multidisciplinary consultancy specialising in the delivery of sustainable, innovative and practical building services. | At the forefront of innovation, Airbus is an international power in the aerospace industry. |
| Tesco is the UK's largest retailer. Everyone is welcome. We're all unique and we'll develop and nurture your talent. | The Catapult is a centre of excellence in innovation, with the purpose of building a world-leading cell and gene therapy sector in the UK. | AECOM is the world's premier infrastructure firm, voted as a World's Most Admired Company in 2020 for the sixth year running. | Working with us as an ambitious District Council, you too can make a real difference to people's lives. Join us and make St Albans work for you! |